The LaGrange Invitational Video
LaGrange, GA, USA, 21 July 2007 - The World Finger Jousting Federation's first official tournament can now be seen by all thanks to the release of its official video recap. Now the general public can experience the sights, sounds, and non-stop action the competitors, staff, and spectators felt at the highlight event of the year.
The video was completed in around two high intensity days of editing. "This project took many, many hours of work without any breaks, but it was all worth it in the end," said the Lord of the Joust who edited the footage. As with the previous video, there were plenty of glitches, errors, and problems to fix, but all were eventually overcome when the hour and fifteen minutes of footage was finalized in fifteen minutes of glory.
"This is a very lengthy video and almost twice the length of the one for the Majigger at the Mall," said the Lord of the Joust, "but this event had a lot more going on at all times, and there was no way to shorten it anymore without losing valuable shots. This is truly a great cinematic experience for our sport . . . and one that the public should highly enjoy."
The video contains music from many artists; each competitor had his own song. There is footage showing the event's musical acts, intermission act, and exclusive interviews. As with the last video, the infamous Boom Headshot sound effect from ROFLMAO Productions' Pure Pwnage can be heard when a headshot is scored. The footage was shot by local videographer, Alex Davis, and was edited by the Lord of the Joust. This recap has also been released on YouTube.
"This was such a big project, and there were so many people involved in it. I tried to make this recap as production quality as possible for the best viewing experience. If you enjoy watching the LaGrange Invitational Video, be sure to show it to your friends and send it all across the internet. From everyone here at the Federation, enjoy the movie."
Watch the video here or download from the News - Multimedia webpage: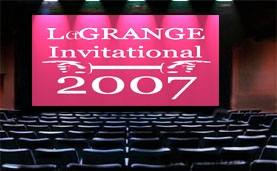 Further information from:
WFJF Media Department
media(at)fingerjoust.com