First International Member
Luton, Bedfordshire, UK, 8 Nov 2006 - The World Finger Jousting Federation, the global governing body over the sport of finger jousting, has officially gone international with the induction of its newest member: Richard Gottfried. Gottfried's membership package was sent to his home in the town of Luton in England. This membership, along with other recent memberships in the WFJF, reflects the progress the finger jousting organization has made in recent months.
Gottfried, a professional marketer, had a few choice comments for the WFJF's Media Department regarding his acceptance into the WFJF: "I am extremely honoured and proud to be the very first member of the World Finger Jousting Federation to hail from outside the USA. . . . As the United Kingdom's first, and therefore best finger jouster, I am looking forward to taking on all challengers in the fine sport of finger jousting."
The President of the World Finger Jousting Federation, Julian Gluck, responded with the following: "This is certainly a proud moment in the brief history of our fine organization. The inclusion of Mr. Gottfried marks the first step taken on the staircase of globalization . . . and as the global governing body [for finger jousting], it is paramount for us to move in this direction." Gluck further stated his anticipation for further international memberships especially those in the key regions of Canada and the United Kingdom.
Along with having its first official member outside of the United States, the WFJF has also seen a rise in minority official memberships recently. This chain of events has been beneficial to the WFJF and the federation's aim of diversification and mass appeal.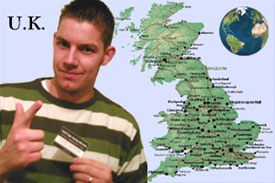 Further information from:
WFJF Media Department
media(at)fingerjoust.com